Install Outlook Client
From Accelerator
This page explains how to install the Outlook client in the Windows Outlook Client
1. Close Outlook.
2. Open and log into CRM and you will see an "Accelerator" tab.

3. Click on the link on the right of the page. You will be prompted to save the application.
4. Run the application (double click on it). Do NOT run the installer as administrator
5. Follow the wizard instructions
6. Open Outlook and click "Allow" on any prompts that appear (usually 2).
  You will now see the CRM Together section in the Outlook Ribbon. 


Setup your Sage CRM connection
 https://accelerator.crmtogether.com/index.php?title=Connections

---
Silent Install
A. To complete the installs silently you must first make sure that the edge webview / webview2 runtime is installed on the client pc. This can be got from
https://developer.microsoft.com/en-us/microsoft-edge/webview2/
We also host this at https://update.crmtogether.com/webview/WebView2RuntimeInstallerX64.exe
Select the "Fixed Version" and your machine bit (x86 or x64) to get the correct installer for you.
B. Next you run the CRM Together Add-in installer
EG
 C:\downloads\CRMTogetherOutlookAddin.exe /SILENT /https://crm.someserver.com/crm/

---
Troubleshoot
If the user does not have the edge runtime installed and do not have permission to install it then they might see an error 120002.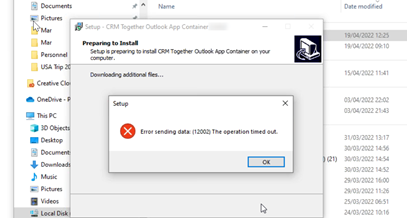 To work around this, close and cancel the install and run again this time selecting to NOT install the egde runtime. Then open
https://developer.microsoft.com/en-us/microsoft-edge/webview2/
and click the "Evergreen Bootstrapper" download button and follow the onscreen instructions there.
---
Uninstall the add in
On your windows workstation close outlook.
Then find the Add/Remove programs area.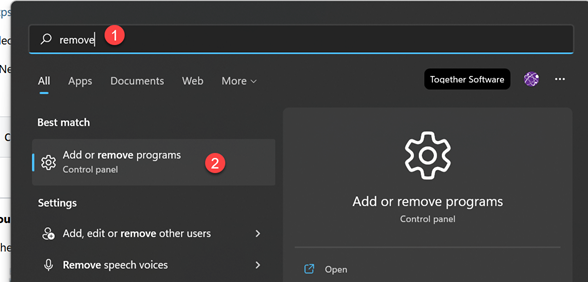 Open the dialog and search (1) for "CRM Together Outlook"
Confirm you select the correct item (2), click the vertical dots (3) and click "Uninstall" (4) and follow the prompts.

---
Add in is being disabled by outlook on windows
SUPPORT APP BOT - DEC 2022 

This applies to Outlook on windows only running the CRM Together Outlook add in software.
We have a helper bot app that will run and monitor the add in status and will flag to re-enable this if
Download this from
 https://update.crmtogether.com/AcceleratorOutlookBot.exe

and copy the exe to your desktop.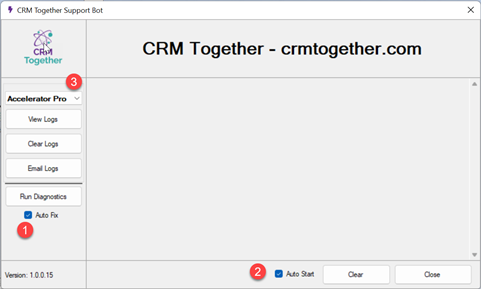 There are 2 checkbox options which we recommend are checked so:
(1) monitor the status of the add in within Outlook for Windows
(2) the app starts when you start windows
Area 3 shows any of the Outlook add-ins you have installed (usually only one).