Start Here
From Accelerator
If you are a Sage CRM partner or customer of CRM Together you can download the server software from our portal at
 Customer365 Portal

You need to already be a registered partner or customer to access this. Please contact us from https://crmtogether.com/contact/ if you cannot get access.
The client software download link will be available in Sage CRM once the server-side is installed but is hosted at
 update.crmtogether.com 

and once installed updates are flagged automatically in the client application. You do not need (and should not use) administrator privilege's to install the client software.
The Office 365 manifest install uses the URL
 Office365 Manifest

to load in the application. This can be installed per-user or via the admin area and users are given access as required. This is done via the 365 interface. Check out microsofts latest documentation to see how to do this.
Watch
here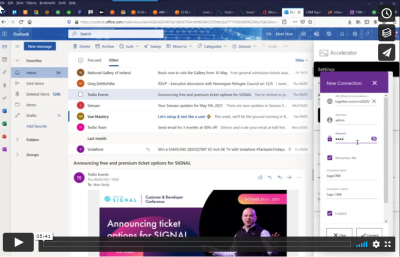 to see how a user can do this.